.
Revised Post Hours
Post 21 in Athens is now open daily for its members and their guest starting at 0800.
Top 9 Military Movies of 2017
Military.com | 25 Nov 2017 | By James Barber
Hollywood usually has a couple of military-themed movies set for release at Christmas, but not this year. We're done with war movies until "12 Strong," the post-9/11 horse soldiers in Afghanistan movie, comes out in January 2018.
Still, this has been an excellent year, fueled by Netflix and Amazon's willingness to make the kind of movies that we don't get from bigger studios these days.
DUNKIRK
Christopher Nolan's WWII classic isn't about strategies or maps or historical context. He tells the story of the May 1940 British evacuation at Dunkirk and turns a defeat the should have been the prelude to German victory in the war and demonstrates just how the Brits found the character to hold the line until the United States decided to join the battle at the end of 1941.
Nolan divides the story into land, sea and air components and intercuts their stories that unfold on three different timelines (one week, one day and one hour, respectively). All three stories come together seamlessly at the end of the movie and, once again, the director has made a great film that's also a puzzle.
The characters in the film don't know anything about strategy or the bigger picture of the battle. Nolan only shows what they know, creating a film that stretches the experience of the first twenty minutes of "Saving Private Ryan" to a full two hours.
LAST FLAG FLYING
Director Richard Linklater's latest movie is about three Vietnam veterans who reunite in 2003 when one of their sons is killed in Iraq. It's about the ways people change over time and the ways they never change. Over the course of the movie, the three men rediscover their old chemistry as they help their brother deal unravel the tragedy of his son's death.
It's about character more than plot but the interaction between these actors and the characters they play is really something special.
THANK YOU FOR YOUR SERVICE
"Thank You for Your Service" is a message movie about the cost of war and the burden of post-traumatic stress. For that reason, it's really tough to watch at times (especially for those dealing with post-traumatic stress).
But writer/director Jason Hall (making his directorial debut after getting an Oscar nomination for writing the "American Sniper" screenplay) is on a mission to both entertain and educate. He got great performances from a cast led by Miles Teller and great source material in David Finkel's non-fiction book about how the men of the Army's 2-16 Infantry Battalion adjusted after their return from service in Iraq.
Adam Schumann, the real soldier played by Teller in the movie, has found some peace after getting treatment, so the movie ends on a positive note after spending two hours in a brutal exposure of the lack of emotional and medical support available to many veterans who are struggling after serving in a war zone.
WAR MACHINE
"War Machine" is a satire, loosely based on the Rolling Stone magazine story that led to the end of General Stanley McChrystal's career. Since it's not a reverent and solemn chronicle of the war in Afghanistan, the movie generated more than a little controversy when it premiered on Netflix last spring.
Here's the thing, though. Many of us here at Military.com have heard from men and women who served in the contradictory chaos of Kabul and they think it's a hilarious portrayal of all the ridiculous struggles we've faced trying to establish a stable democracy in Afghanistan for the last sixteen years.
Pitt plays his part in an over-the-top way that makes sure that anyone who's paying attention knows that he's not starring in a serious drama. If you're laughing after the first ten minutes, you'll love the movie. If you're getting offended, turn it off. This one's not for you.
WOLF WARRIOR 2
"Wolf Warrior 2" is the biggest box office hit in China history and features Wu Jing returning as the director while starring in the title role. After the mayhem of the first movie, this special ops warrior just wants a quiet life in a seaside town. Of course, there's a violent gang terrorizing the area and the Wolf Warrior must save the citizens. American action movie regular Frank Grillo gets a great role as the mercenary who faces down the Wolf Warrior in the movie's climax. China is just discovering the pleasures of Chuck Norris/Arnold Schwarzenegger/Bruce Willis '80s action pictures and this movie holds it own with the best American movies from that genre.
THE WALL
Director Doug Liman made two excellent movies this year, "The Wall" and "American Made," his action thriller about pilot/DEA operative/drug smuggler Barry Seal. Neither was a hit and that's a shame.
"The Wall" is a low-budget thriller about two snipers trapped behind a shaky wall while they're in a life-or-death battle with a lethal Iraqi sniper. Aaron Taylor-Johnson and John Cena are the only actors on-screen for 99% of the movie and they're the only characters you hear, aside from Iraqi's radio communication with Taylor-Johnson.
Two opposing snipers talking philosophy over the radio? Yeah, that's not realistic but, then again, this isn't a movie about the particulars of battle. It's a suspense thriller and Liman and his actors manage to create an enormous amount of tension that keeps you riveted through its tight 88-minute running time.
SAND CASTLE
Nicholas Hoult, Logan Marshall-Green and Henry Cavill in "Sand Castle" (photo courtesy Netflix)
"Sand Castle" is based on the real experiences of a Civil Affairs unit of the 4th Infantry division in the early days of the Iraq War. U.S. troops are ordered to the outskirts of Baqubah to repair a water pumping station damaged by U.S. bombs.
The script was written by Army veteran Chris Roessner, who based it on his own experiences in Iraq. While the uneducated viewer might think the stakes aren't as high for these guys as they would be for a combat unit, Roessner's script does a great job of portraying the risks faced by every man and woman who's serving in a war zone.
MEGAN LEAVEY
"Megan Leavey" is a movie about a real-life Marine and her strong bond with a military working dog named Rex. It's a complicated movie about the complicated experiences of a real Marine and the post-traumatic stress that both Leavey and Rex must endure.
Kate Mara plays Leavey and the movie features her combat experiences, her struggles with post-traumatic stress and her fight to allow Rex to live with her after the dog retired from combat.
OPERATION MEKONG
Action master Dante Lam's "Operation Mekong" was inspired by a real-life 2011 incident when two Chinese cargo ships were attacked by drug traffickers in Myanmar and the crew was killed. Rather than tell a sober story of special forces heroism, Lam uses the incident as a jumping-off point for a wild, old-school action thriller.
—————————————————————————————————–
US Military Adds More Than 4,000 Names to Gun Ban List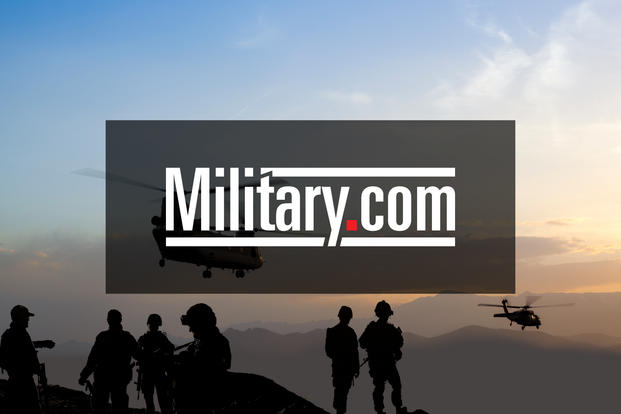 Law enforcement officials work at the scene of a fatal shooting at the First Baptist Church in Sutherland Springs, Texas, on Nov. 5, 2017. (Nick Wagner/Austin American-Statesman via AP)     New York Daily News 13 Feb 2018 By Leonard Greene
A Texas church massacre that killed 26 people last year prompted the U.S. military to add the names of more than 4,000 people to the list of dishonorably discharged people banned from owning guns, according to a report.
Six months ago, gunman Devin Kelley, dressed in tactical gear and a bulletproof vest, stormed a small Sutherland Springs church, opening fire on parishioners during Sunday service.
Kelley, 26, served in the Air Force, and received a bad conduct discharge in 2012 after he was court-martialed on charges of assaulting his wife and child.
Even so, Kelley was able to purchase an assault-style rifle, exposing a gaping loophole in the nation's gun laws.
The federal background check system outlaws gun sales to anyone who received a dishonorable discharge from the U.S. armed forces.
But the same restriction does not apply to less serious bad conduct discharges, like the one Kelley received.
But after the Texas shooting, the military rushed to add 4,284 names to the gun ban list after officials uncovered a dangerous backlog, according to CNN.
In Kelley's case, the Air Force admitted that it had not submitted his records to the FBI's background check system.
"I'm encouraged that they're trying to hurry up and get through this backlog," said Rep. Scott Taylor (R-Va.), a former Navy SEAL who is working on a bill to improve background checks.
"But it was a failure of duty and responsibility to not report these people to the federal database. I'm highly disappointed."
Kelley shot and killed himself after a civilian wounded him in a gun battle outside the church and chased him along a highway.
This article is written by Leonard Greene from New York Daily News and was legally licensed via the Tribune Content Agency through the NewsCredpublisher network. Please direct all licensing questions to legal@newscred.com.
—————————————————————————————————–
Dale Beatty, Who Lost His Legs but Helped Hundreds of Veterans, Dies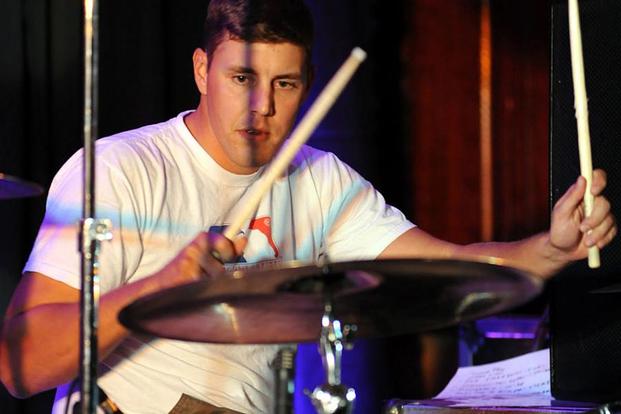 Dale Beatty, a double-below-the-knee amputee who lost his lower legs to an anti-tank mine in Iraq, plays the drums at an event in 2010. Army photo     
The Charlotte Observer 13 Feb 2018 By Joe Marusak
Dale Beatty, an Army veteran from Statesville who lost both legs beneath the knees in Iraq and devoted his life to helping other vets, died unexpectedly Monday at age 39, his nonprofit organization said Monday.
"It is with a heavy heart that we inform you of the sudden passing of our beloved Co-Founder, Dale Beatty," Purple Heart Homes said on Facebook and Twitter. "None of the family, staff, or friends were prepared for this great loss. Our thoughts and prayers are with Dale's wife and family."
Beatty and John Gallina, also from Statesville, were wounded when a mine detonated through the floor of their Humvee in northern Iraq in 2004. Gallina suffered brain trauma. The two friends were in high school when they enlisted in the North Carolina National Guard in 1996.
They founded Purple Heart Homes in 2008 because many injured veterans need new homes when they return from conflicts, Beatty and Gallina told the Observer in 2009. Others need improvements to their homes, especially as the veterans age and can't do the repairs themselves. But too often the vets get no aid, they said.
The organization has helped veterans in the Carolinas and other states coast to coast with new or renovated homes, often with volunteers providing everything from donations to labor. Purple Heart Homes completed its 300th housing project in November.
Time magazine recognized Beatty and Gallina on its Aug. 29, 2011, cover, with three other U.S. veterans likewise committed to improving the lives of others. "The New Greatest Generation," the magazine called them.
Beatty was a staff sergeant when he was wounded. Gallina was a specialist.
Beatty told Time how his left leg was amputated just below the knee at Walter Reed Army Medical Center in Washington. He talked about how he was given the choice whether to have the other one amputated. If he kept the leg, he'd have to spend two years in therapy and would still never be able to walk without pain. He told the doctors to amputate the right leg, too, in the same place as the left one.
Beatty always said the veterans his organization served were in much more need than he ever was. "I get around better than he does, and I'm missing both legs," Beatty told the Observer about a veteran his organization was helping in 2009.
At least 165 people had posted remembrances of Beatty on the Purple Hearts Home Facebook page within hours of the announcement of his death.
"I only had a few opportunities to meet him, but every time we talked, he was like talking with your brother," Samuel Lograsso wrote. "… Rest in peace, Dale, you are an American hero in so many ways."
"A truly great American," wrote Jim Wesson. "A hero of our armed forces and a hero to all of the veterans that have been helped by Dale and his company. RIP Dale!"
This article is written by Joe Marusak from The Charlotte Observer and was legally licensed via the Tribune Content Agency through the NewsCredpublisher network. Please direct all licensing questions to legal@newscred.com.
—————————————————————————————————–
Over 133,000 Veterans Who Got Military Disability Are Due Tax Refunds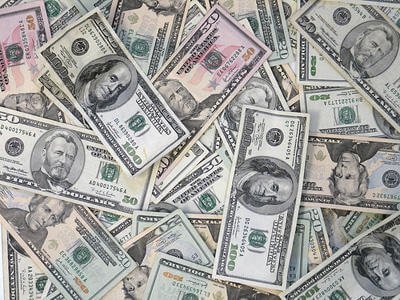 This month the DOD will begin sending notifications to more than 133,000 veterans who may qualify for a refund of federal taxes paid on disability severance pay dating back to January 17, 1991.
Under federal law, veterans who suffer combat-related injuries and who are separated from the military are not supposed to be taxed on the one-time lump sum disability severance payment they got from the military.
For years DOD improperly withheld taxes on these payments from thousands of unsuspecting veterans, who were typically unaware that their benefits were being improperly reduced.
In 2016 Congress passed the Combat-Injured Veterans Tax Fairness Act which directed DOD to identify veterans who have been separated from service for combat-related injuries and had taxes improperly withheld from their severance payments.
The law also required DOD to determine how much these veterans are owed so they can recover the withheld amounts, notify them of their eligibility for a refund, and tell them how to get that refund from the IRS.
Eligible veterans will have a year after they receive the notice from DOD to file a claim for the refund.
DOD says that more than 133,000 disabled veterans may be eligible for a refund of federal taxes under the Combat Injured Veterans Tax Fairness Act.
—————————————————————————————————–
Diabetes, Cholesterol Drug Prices Cut Under Tricare Pharmacy Pilot

Jessica Gaines, 341st Medical Support Squadron pharmacy technician, fills a prescription using an automated drug dispensing cabinet Aug. 14, 2017, at Malmstrom Air Force Base, Montana. (U.S. Air Force/Daniel Brosam)     Military.com 6 Feb 2018 By Amy Bushatz
Take a daily drug for diabetes or high cholesterol? Your medication now could cost less or be free thanks to a new Tricare pilot program.
The Medication Adherence Pilot Program, ordered by Congress in 2016, started Feb. 1 and will run until 2023.
Under the program, Lantus Pens, a brand-name insulin shot used to manage diabetes, will be available for reduced cost. Rosuvastatin, the generic version of the cholesterol management drug Crestor, will be free.
About 136,000 beneficiaries will be included in the pilot, officials said. About 16,000 orders for Lantus Pens are placed monthly through Tricare at retail and mail order pharmacies, while about 40,000 orders of Rosuvastatin are filled, they said.
The change hits even as prices for all other medications go up. That includes, for the first time ever, a new, out-of-pocket fee for generic drugs received through the system's mail-order pharmacy.
In the past, those medications had been free.
Starting Feb. 1, they carry a $7 fee for a 90-day supply. That means Rosuvastatin is now the only medication available by mail or at a retail pharmacy that carries no out-of-pocket cost.
Drugs received at a military treatment facility continue to be free.
Before the pilot program, Lantus Pens cost $28 for a 30-day supply at an in-network retail pharmacy, and $24 for a 90-day supply through mail-order. Under the program, the drug will cost $11 for a 30-day supply at a retail pharmacy and $7 for the 90-day supply received by mail.
Rosuvastatin, which had cost $11 for a 30-day supply at an in-network retail pharmacy or $7 for a 90-day supply by mail order, will instead be free from both sources.
The pilot program is designed to test whether patients are more likely to follow their medication treatment plans when the required drugs are reduced in price or free, officials said.
— Amy Bushatz can be reached at amy.bushatz@military.com.
—————————————————————————————————–
Thousands of TRICARE Users Could Soon Lose Coverage

FILE — Jonathan Serna, registered nurse, Surgical Ward, William Beaumont Army Medical Center, checks on Henrie Schneider, WBAMC inpatient, during Schneider's stay at WBAMC's Surgical Ward, April 11. (U.S. Army/Marcy Sanchez)            Military.com 8 Feb 2018 By Amy Bushatz
About 50,000 TRICARE Prime retiree or TRICARE Reserve Select, TRICARE Retired Reserve or TRICARE Young Adult users in the new West region could be on the cusp of losing coverage, according to an email obtained this week by Military.com.
TRICARE users in those households — about 39,000 Prime beneficiaries and 25,000 Reserve or young adult plan beneficiaries — as of Jan. 31 had not yet updated their payment information with the contractor, Health Net Federal Services, according to the email from Laura D'Antin, the Defense Health Agency's West region Reserve component liaison.
Health Net took over management of the region Jan. 1.
The TRICARE Prime retiree, TRICARE Reserve Select, TRICARE Retired Reserve and TRICARE Young Adult plans require users to pay regular premiums or be dropped from coverage. All users on those plans can pay by electronic funds transfers or credit or debit card; retirees also have the option of using a paycheck allotment.
But thanks to the contractor swap, which shifted management of the West region from United Healthcare to Health Net, all users except those paying by paycheck allotment were required to re-register their payment information.
More than 100,000 users in the TRICARE West region late last year received notices by mail dated Nov. 18, while more than 100,000 households in the new East region received letters from contractor Humana dated Nov. 28, officials said.
Health Net users were to update their information by Dec. 20, while Humana users had until Dec. 24, the notices said.
Officials with Humana said Thursday they have received more than 128,000 requests to update payment information despite sending only about 100,000 letters. Still, they have extended the update deadline for TRICARE Reserve Select, TRICARE Retired Reserve and TRICARE Young Adult users to Feb. 28, they said.
Thanks to a low response rate, Health Net officials said they have extended to March 23 their deadline for those groups. Officials said they are sending a new notice to beneficiaries who have yet to submit their payment information.
"Health Net Federal Services will be sending out one more notice to these beneficiaries, as well as email to those who have [a] registered email address on file, but as we have historically found, many of our beneficiaries either don't look at their mail/e-mail or they only have limited access (like on drill weekend only)," the email from D'Antin states.
— Amy Bushatz can be reached at amy.bushatz@military.com.
—————————————————————————————————–
The Truth About MLM Businesses and How They Hurt Troops

Spouses shop during a Spouse Appreciation Day Bazaar at the Thomas Community Activities Center at Little Rock Air Force Base, Arkansas. (U.S. Air Force/Cliffton Dolezal)
Task & Purpose 30 Jan 2018 By Crispin Burke
This article originally appeared on Task & Purpose, a digital news and culture publication dedicated to military and veterans issues.
Direct-sales businesses are prevalent in military communities, as military spouses and even some service members try to either launch full-time jobs or just make some extra cash on the side. These sorts of businesses raked in nearly $36 billion in sales in 2015 and have become so prevalent on military bases that one Duffel Blog, a military humor site, referred to the small army of scented-candle and oil-sales representatives as "SCENTCOM".
Direct-sales businesses — often referred to as multi-level marketing businesses — have been around for decades, ever since companies like Avon and Tupperware recruited employees to sell their products in exchange for a small commission on each sales.
They are often conflated with pyramid schemes, although there is an important legal distinction between the two. Pyramid schemes (which are illegal) gain the majority of their revenue from the recruitment of new members, while multi-level marketing businesses receive the majority of their money from the sales to external consumers — as do most legitimate businesses.
That said, it can be difficult for outsiders to differentiate between legitimate multi-level businesses and pyramid schemes. Since 1996, 26 multi-level marketing businesses have been charged by the Federal Trade Commission for operating as a pyramid scheme, alleging that these businesses were less than forthcoming about the potential earnings for those who participate in them. Of those 26 businesses, each was either found guilty or was forced to settle out of court.
I spoke to several people who worked for multi-level marketing business, and some did indeed make money, including one person who made a killing selling sex toys to the spouses of a deploying Army brigade. But these are the exceptions rather than the rule. According to a study hosted on the FTC's website of nearly 350 direct-sales companies, roughly 99% of employees lose money after accounting for overhead costs, inventory, and other fees.
Just take a look at some of the direct-sales businesses popular in military communities. Around 86 percent of active "designers" at Origami Owl make an average annual income of less than $250 (not including expenses) per year selling jewelry,according to the company's financial disclosure statement. Selling wickless candles for Scentsy? You'll need to work for an average of four years to gain "Star" consultant status, with average annual earnings of just $1,300 per year (not counting expenses) — or roughly three and a half hours per week at minimum wage for one year to earn the same annual income.
One researcher who spoke to me studied the spread of these businesses, comparing them to viral epidemics. Military communities are tight-knit and can be isolated from the rest of American society at large. Military communities also represent a giant, untapped labor pool for multi-level marketing companies.
Although military spouses are better educated than their civilian counterparts, according to a 2015 RAND study, they face high levels of unemployment as well as under-employment, with nearly half of all military spouses claiming they were over-qualified for their current or most recent jobs in terms of education level. Many military spouses cited difficulties finding jobs due to frequent moves — generally every two to three years — and the perception that employers would not want to hire military spouses. Not to mention, many military spouses may find themselves stationed overseas where costs of living are high, yet there are few job opportunities either on base or in the surrounding communities. Military spouses face further employment challenges, especially considering they are more likely to have children than their civilian counterparts and may have to act as a single parent for months at a time due to long deployments.
That said, when polled, many military spouses still felt a strong desire to work. But surprisingly, only around half of those polled said they wanted to do so to generate income — over 90% of military spouses said they wanted to work for personal fulfillment. Underemployment and a desire for fulfillment drives many military spouses toward direct-sales businesses. One blog catering to the military community touted the benefits of direct-sales businesses, claiming they "fulfill a need."
Many in the military community reported being bombarded with requests to participate in multi-level marketing businesses schemes or attend parties selling products upon arriving at a new duty station, often feeling pressure to do so in order to fit in and make new friends. Even service members aren't immune. I was personally approached several times by members of a multi-level marketing firm specializing in energy drinks named Quixtar — I even knew a fellow service member who was roped into the scheme. Quixtar, a subsidiary of Amway, was eventually sued for operating a pyramid scheme, settling out of court for $56 million.
Can anything be done to prevent service members from losing money to these types of predatory businesses? Yes.
For decades, payday lenders and shady car dealerships preyed on young service members, offering loans with exorbitant interest rates. Making matters worse was that payday lenders had plenty of political backing — millions of dollars in campaign contributions and lobbying. But Congress eventually passed a series of provisions, which, although far from perfect, limited the amount of money payday lenders could charge service members. Since then, the Consumer Financial Protection Bureau designated Holly Petraeus to spearhead efforts to protect service members and their families from future scams. Service members and their families might benefit from similar oversight to curb losses from multi-level marketing businesses by requiring companies to buy back unused stock should participants not be able to sell it. Military life makes service members and their families vulnerable to certain unique financial threats — consumer protection agencies should continue to assist military service members and their families.
Finally, more must be done by both the Pentagon and private industry to address the underlying issue which makes predatory businesses so prevalent on military bases: high unemployment rates among military spouses. Although there has been great progress in reducing unemployment among post-9/11 veterans, both public and private-sector agencies should now focus on providing America's military spouses with meaningful employment by partnering with agencies like Hiring Our Heroes or other such programs.
Until then, just keep deleting those invites.
—————————————————————————————————–
Email all suggestions/content to: AMVETS AL 21